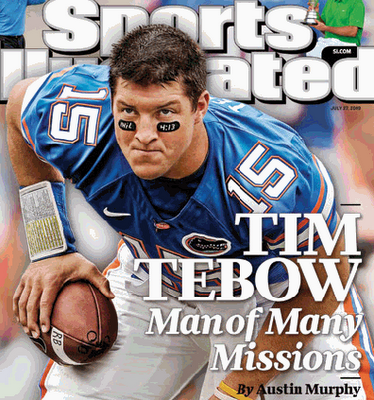 For as long as I've lived, I can remember athletes thanking God after sporting events during postgame interviews.  From Kurt Warner talking of Jesus Christ after a successful game to teams praying after the game, people's religion and faith is visible in sports.  For every person, this draws some sort of different response.  I remember when I was younger, I used to idolize players who would speak about their faith in Christ.  I went to a basketball camp put on by FCA (Fellowship of Christian Athletes) and lead by Charlie Ward, who at that time was the starting point guard for the New York Knicks. He shared how Jesus had transformed his life and now the least he could do was tell others about that hope.  When I was in middle school (prior to this experience in high school), I helped start an FCA chapter that ended up growing into a ministry of around 100 kids! I have no idea where it is at today, but the fact remains that athletes and athletics can have a real way of connecting people, as well as an easy way to get jocks to gather and take 10 minutes to listen to a successful athlete speak.
A couple of weeks ago, Tim Tebow was on the front cover of Sports Illustrated.  For the ignorant sports follower, Tebow is the quarterback at the University of Florida and has lead the Gators to two National Championships, as well as won the Heisman Trophy (and arguably should have won it twice).  The cover story, which you can read here, essentially tells of Tim's off the field faith stories.  It starts with how Tim was recommended to be aborted by the doctors for medical reasons and progresses to tell of Tim sharing Jesus with his team and to convicts in prisons.  The players on his team tell that he does not ram his faith down anyone's throat, but simply wants to be recognized for the good he is doing, not as a religious zealot.
As I've grown up, I can sometimes respond too cynically or judgmental about others and their faith expressions, especially Christians. I often get annoyed at sports players talking about faith.  Sometimes it is the cliche ("I'd just like to thank God for…") and sometimes is over the top (players talking about God when a completely different question has been asked).  However, to let a platform and level of respect from so many slip by you without sharing something that has changed your life would also be terrible.  This brought me to the question of, "Ideally, how much should athletes use their platform (big or small) to share their life-changing faith?"
In my mind, everything is balance.  If you talk about Jesus every time someone tries to talk to you about your strategy in the game, it can be annoying.  However, in a position where you are as big as many celebrities (like Tebow or Kurt Warner), I do believe it is important to share of the "hope that lies within."
But I also want to take a look at the comments people left in response to the Tebow article.  A lot of the article was about Tebow's father, who is a missionary in the Philippines who has helped start 10,000 churches (I'm at 1…geez!) and an orphanage that Tim famously went down to help kids rather than party with his teammates for Spring Break.  You can read them all here, but I want to post some of them below so that you can understand people's passion when it comes to a response about the Christian faith and our expression of it.  Sports Illustrated of course can only give a sample of what comes back from a story, but there was basically only one positive response to this story on the greatest college quarterback in the game.
I am an Oklahoma fan, and when I attended the BCS championship game in January, I said more than once, "I hate Tim #$%!#$% Tebow." After reading your article (You Gotta Love Tim Tebow, July 27) and knowing the impact that guys like him have had on my own life as a sometimes struggling Christian and recovering drug addict and alcoholic, all I can say is that this world needs more Tim Tebows—OU nemesis or not.
Jeremy Martin, Tulsa
You gotta love Tim Tebow? I sure don't! His message of literal Christian fundamentalism is wreaking havoc on women, gays and nonbelievers all over the world. How about spreading a message of redemption and hope without the religious intolerance? That would be a Tim Tebow I could love!
Michael Rozzen, San Diego

I am a Christian. However, I dislike it when athletes claim God is on their side, as Tebow did before the national championship game against Oklahoma. Does God really care about the outcome of a football game? I think this kind of belief diminishes my God and heaps inevitable ridicule on my faith.
Roberto Pacheco, Miami

On the Bob Tebow Evangelistic Association website, it is estimated that 75% of Filipinos have never once heard the Gospel of Jesus Christ. Given that Filipinos are 80% Roman Catholic, the target of the ministry is obvious. And while Bob, Tim's father, may strike a warm, inclusive note in an interview, his own website does not, stating, "We reject the modern ecumenical movement." In other words, when it comes to salvation, Catholics need not apply. Tim is featured prominently on his father's website. So, no, I don't gotta love Tim Tebow.
Sean O'Brien, Milwaukee

Your story mentions "an embarrassing string of arrests" for the Florida football team. In fact, the team has had 24 arrests in the past four years. Until the Florida players' actions more closely reflect their leader's values, Tebow's exhortations ring hollow.
Kathryn Schuessler
Mishawaka, Ind.

Now we have another quarterback besides Kurt Warner telling us during postgame interviews that he owes every great thing that happens for him on a football field to his faith in Jesus. I knew there had to be a reason why the Almighty included a mute button on my remote control.
Arthur Troyer
Vancouver, Wash.

It was refreshing to see a Christian's faith chronicled so richly and without ridicule.
Lori Arnold, Santee, Calif.
Wow! Those are some intense responses, eh? That is exactly what I wanted to draw to your attention.  The first comment about Tebow being an inspiration for a recovering addict and someone who struggles with their faith was encouraging to read.  The second comment is a criticism of Tebow's fundamental Christian faith, of which his father talks about believing in the Left Behind-type rapture, Creationism (literal 6 day Creation), and I would also assume would take a very conservative approach to woman's role in the church.  Now, you can call yourself a follower of Christ and not subscribe to any of these things and I think we can see the point of the comment and the harm of Christian fundamentalism.  I see how it affects so many people in my context here in Lancaster, PA, one of the most religious places in the U.S.  A lot of times we push people away with what we are saying, rather than helping them draw closer to the Kingdom of God.
The third comment disapproves of Tebow for saying God is on the Gator's side.  Yes, this was a very dumb comment and I would also agree that people who speak like this make it harder to tell people about the love that Christ offers us all.  No one wants to listen to unbelievable Christians.  I'm also pretty convinced that God does not care about the outcome of the game, even if we pray that He intervenes.  The next comment that comes is a criticism that Tebow and his father's ministry is simply trying to convert Catholics to Protestant views.  Again, I can see how that could draw criticism, but I will also say that Catholics and Protestant's faiths do seem to look very different from my experiences.  If you thought that the ministry was sharing Christ's good news with Catholics and you were a professing Catholic though, I could see how you could get testy.  The next person, Arthur, tells of his experience that I think most people think when they hear Christian athletes tell of their faith: annoying.
This brings about many questions for me as a follower of Christ.  What is my reaction to Christians on television who are sharing their faith? Do I roll my eyes or am I inspired?  Obviously those that pray for God on their side or for God to somehow affect the game are pretty ludicrous, but I have to admit to Christian athletes playing a positive role in my faith development (and many others).  What about those of us who are not superstar athletes?  When do we use our platform at work or with our friends?  Are we the annoying person who tries to talk about their faith all the time or are we living a life that inspires others to help those in need? Are we helping point people to Christ or are we putting up more walls than pointing people towards Jesus of Nazareth's way?
I'm not going to criticize Tim Tebow or any other Christian for their sharing of their faith, especially considering he just turned 22.  I can't imagine handling the spotlight like he has and with as few mistakes as he has made.  However, what I am taking away from the comments of the SI readers is that I need to be doing a lot of good in the world to help turn heads, rather than just tell them that Jesus wants to simply enter their heart.