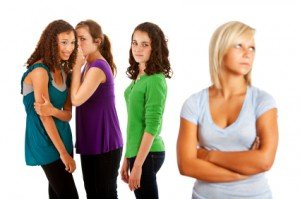 Ah yes. The infamous youth group cliques. If you are a youth leader, you've seen this plenty of times. A teenager awkwardly enters a new and uncharted territory to see if this "church thing" is for them. A couple of kids say hi, but they mostly stand in the corner by themselves. An adult woman comes to talk to her for a bit about her day before she takes a seat by herself.
She listens to a story from the youth pastor about showing Jesus' love to others. But she is wondering the disconnect between what the youth pastor is saying and how her experience has been. She enjoys the lesson, but quickly heads for the exit when the time is over for fear of having to stand by herself for another 5 minutes, which felt like an eternity when she arrived.
She isn't coming back. And she didn't meet or experience Jesus.
And those of us in youth ministry have seen this time and time again.
Cliques cause jealousy, hurt feelings, and exclusion. They are the complete opposite to the Kingdom of God.
So how do we stop it?
1) The best idea our group has come up with Continue Reading…