Bill Hybels
Leadership is not about protecting a position or showing how smart you are, it's about moving a cause/organization to some better place. It's all about movement.
Can I do this?
Can I sustain this?
Can I take this across the finish line?
8 Critical Functions of Leadership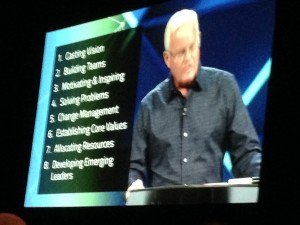 5 Intangibles of Leadership
1) Grit
How do people with less IQ and talent succeed more than others. A psychologist study
People with grit have long term tenacity
Use every last drop to move something ahead
Gritty people don't quit, but can overcome whatever obstacle stands in their way
I think I can —> I thought I could.
Grit Assessment Test at willowcreek.com/survey
Can I develop grit?
Opposite of grit is ease.
Grit development demands difficulty.
Overcoming physical challenges is a way to grow grit. This overflows into other areas.
Most elite leaders volunteer for extra assignments and then kill it.
Don't just deliver. Over deliver every time.
When senior leaders have grit, it creates a culture of grit.
Gritty organizations are unstoppable.
We must develop grit to be a great leader.
2) Self-awareness
When there is a big
Blind spot: something someone believes they do well, but everyone else on the team knows this is not true.
All of us have 3.4 blind spots
How do we identify our blind spots?
– direct supervisor
– peers, friends, and colleagues
Knowing how your past is messing with your decision making today is crucial for today.
Growing in self-awareness demands feedback from others.
3) Resourcefulness
– People with high learning agility start figuring out what they need to do
– Resourceful people figure it out.
– So much of our growth of a leader
Can resourcefulness be developed?
Yes. But you must be put in places that are confused, dysfunctional, and failing to figure out a way forward.
4) Self-sacrifice
– This is at the core of good leadership
– Self-sacrificing love has always been and will always be at the absolute core of leadership. Love changes people and cultures.
– Gallop: Do workers feel concern/love from their supervisor?
     – The entire organization performs better.
The greatest of these is love.
Tear down the professional veils that keep your heart closed off from co-workers.