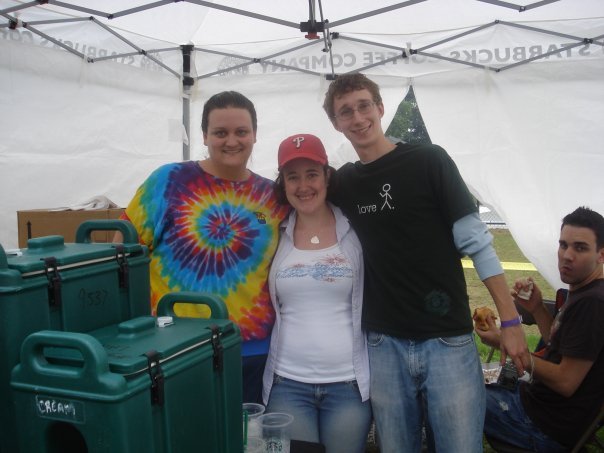 Christians vs. Homosexuals. Us vs. them.  This seems to be the attitude of many conservative Christians and the homosexual community.  In fact, 91% of young people outside the church (ages 16-29) believe that Christians are antihomosexual and 80% of churchgoers subscribe to the same perception.  Further, 87% of people who do not call themselves Christians identify the word "judgmental" with present-day Christianity.  Let's start by admitting there is a problem here.
Before I share of my experience of attending a PRIDE event this past weekend, maybe we should get some background information.  I have grown up in an open, but conservative Christian home and have never experienced any sort of gay. lesbian, or bi (GLB) gathering.  Starbucks was giving out free coffee at the event, and since I work part time for them, I decided to go volunteer.  When I put this up on my twitter/fb status, I received all kinds of messages.  I had some in joking manners questioning my sexuality (I should add that I am straight), some praising me for being a "light on a hill", and one who said, "Way to go Siggy! We all know ya love the women….besides who could look at a man's hairy butt and…..???? well, you know….".  The problem is, I do know.  I do know that I worked with someone at Starbucks who chose a homosexual lifestyle because his parents were so overly-religious it pushed him to rebel in that manner (still his choice, but the fact remains this was his driving force).  I do know that other homosexuals I've talked to and have found out that I am a Christian immediately believe that I think they are going to hell.  What??? When I first meet someone, the last thing I'm thinking about is whether or not they will be going to heaven or hell.  I want to know what they do for a living, what they enjoy doing, what makes them live and breathe, how their weekend was, etc.  It is unbelievable how many walls you have to break through when trying to have a simple conversation with someone about faith. Or how their day is going.
So I decided to head down to Lancaster PRIDE with a few girl friends from Starbucks and give away free Starbucks.  The event itself was like a small fair-type gathering (minus the animals and rides).  There were different vendors selling all sorts of products (I was actually given free men's shaving cream and condoms), food, and any types of musicians performing.  Some of these musicians were from churches singing about love ("Seasons of Love" from Rent) and even speaking of the Lord, while some drag queens actually were lip syncing and dancing to popular pop songs, having the time of their life.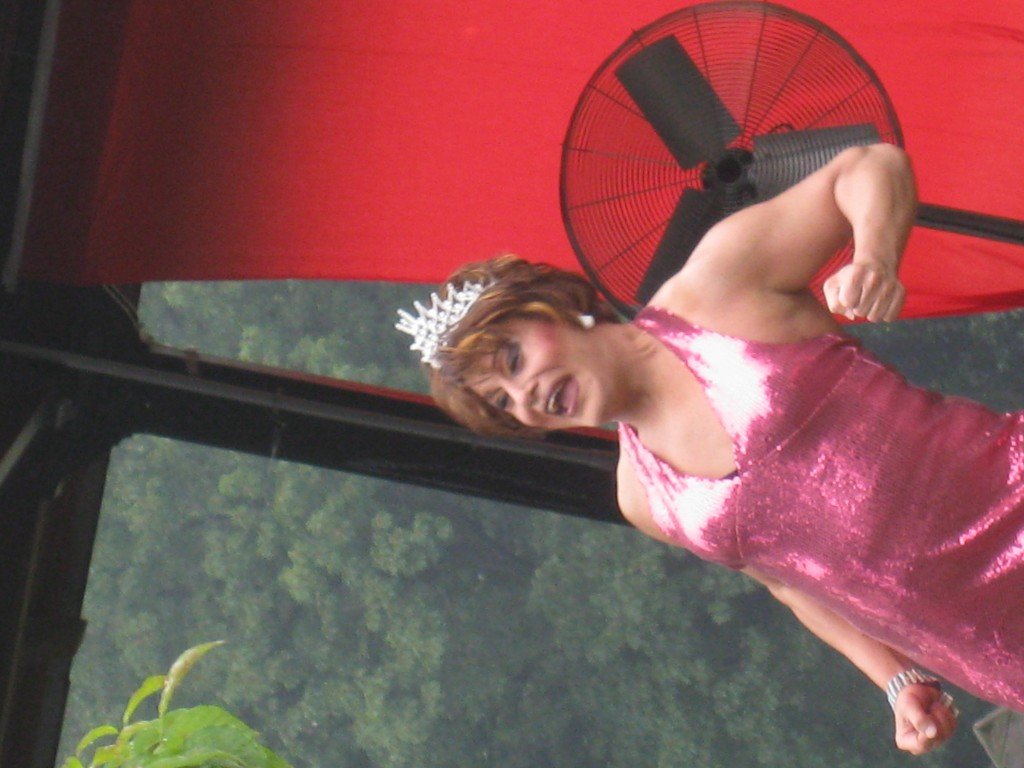 Ms. Pride (drag queen) performing
"ReThink Church" Stand
So this was a group of people that I was not used to interacting with, which was very good for me.  When I see Jesus, I see him comfortable with the prostitute and with the religious leaders (although it would do us well to remember who made our Lord in the flesh upset).  The day was pretty straightforward.  I talked to people about anything, connected with other Starbucks employees from other stores, and ate some french fries.  Pretty uneventful outside of watching drag queens parade around a muddy park in high heels.  That was impressive.
Then, when I was leaving with the two girls I had carpooled with, we saw the protesters.  Ah yes.  My favorite.  I told the people I was with that I had to get pictures, but that I did not want to be rude about it.  Thankfully, they were gracious and chilled about the whole thing.  Before I even could pull out my camera, a 40 year old man with a shirt that read "JESUS SAVES" in large, bold letters stopped me.  His opening question to me was, "What did you think of your experience in there?"  I was taken back by the question, but responded with, "I was handing out free coffee."  Before I could carry on, the man started asking me all kinds of questions.  I interrupted and said, "Hang on here man.  Let's just start by saying that I am a follower of Christ." He said, "Awesome! So you were evangelizing in there?" I responded, "Well, I didn't talk to anybody about Jesus if that is what you mean?" After finding out I had attended a Christian college, he asked what my goal was for attending.  Finally we got to a good question.  However, I was having trouble focusing on the conversation because multiple people were yelling Scripture from a huge, King James Bible, spewing verses of judgment.  So, I responded to his question, "I have to be brutally honest here with you.  One of my reasons was just to see what the event was like and to connect with people.  Another reason was to talk with people who have a different sexual orientation than I have." Mark, the "JESUS SAVES" guy, interrupted again and said, "Well do you think that homosexuality is a sin?"  I uncontrollably rolled my eyes and reluctantly responded that I thought that homosexuality was not God's best plan for us, but that I thought the bigger issue was that over 50% of marriages in the church are failing and that I have sexual sin in my own life. He said, "Well, you aren't sleeping around are you?" I said, "Well first off, that is none of your business (to which he apologized) and then I said no I was not, but the point was that I was not without sin, so I cannot cast the first stone."  Conversation continued and I was trying to wrap up as my friends (who do not profess faith in Christ, although one is very, very interested in His way) were waiting across the street.  I told Mark, "I honestly believe that you are doing more damage here and putting up walls towards Christ than helping point people towards His Kingdom." He did not buy it. "What if someone who is here overhears the truth being spoken, even if the guy delivering the message is old and decrepit looking (he acknowledged the strange looks of the man speaking…not me for the record).  You never know if someone could reflect on this and later understand the truth." I said, "Really? How about just having a civil conversation with the people you are already in relation with." He said, "We are being civil". I said, "Yes, I appreciate you guys not getting violent, but you still are just putting up more and more walls for these people who are different from you to come to Christ.  I understand that you think you are showing love, but the important thing to realize here is the perceptions of your audience.  I think we would agree that the actual message and the presentation of that message are equally important, right?" He agreed and I said that I had to go.  He concluded with, "Well I really hope I challenged you and that you will think about what we talked about today."  I'm not sure that one can end a conversation more ignorantly, but I walked away after taking a few pictures of people he called his friends.  I will add a final note as well that the group, "Silent Witness" who help control the violence if anything happens at these events, overheard the entire conversation and I could tell they were very appreciative of what I said to Mark.  If I was "witnessing" to anyone, it was those overhearing our conversation and showing that you do not have to be a self-righteous zealot to be a Christian.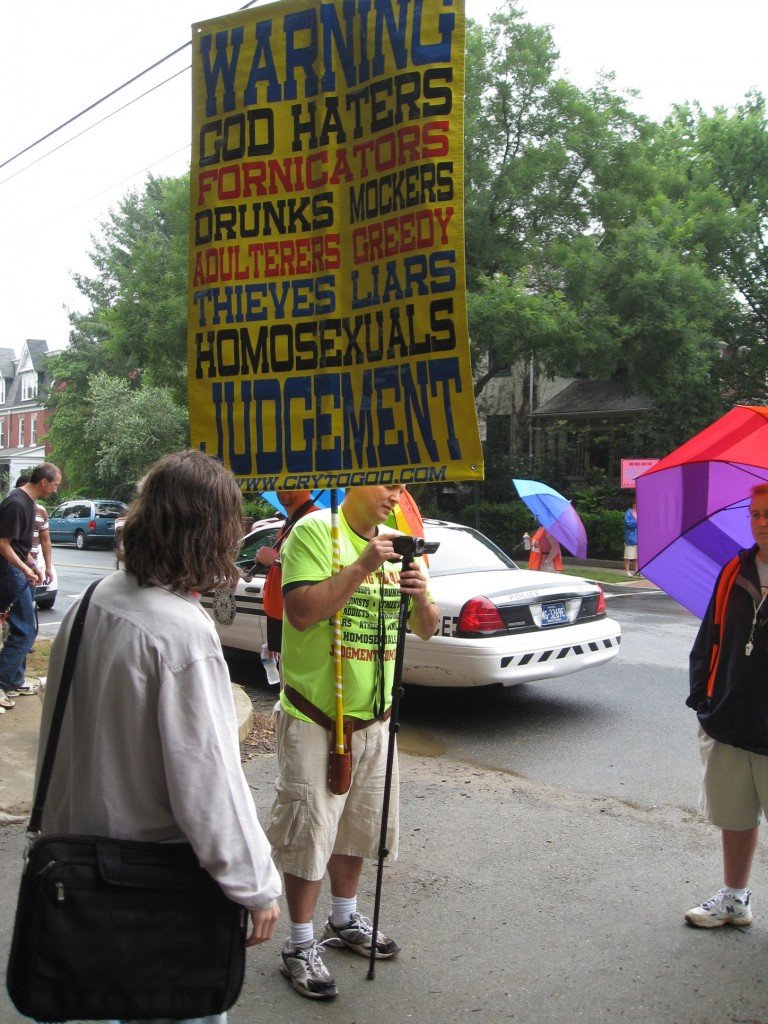 Another man protesting that I did not get to talk to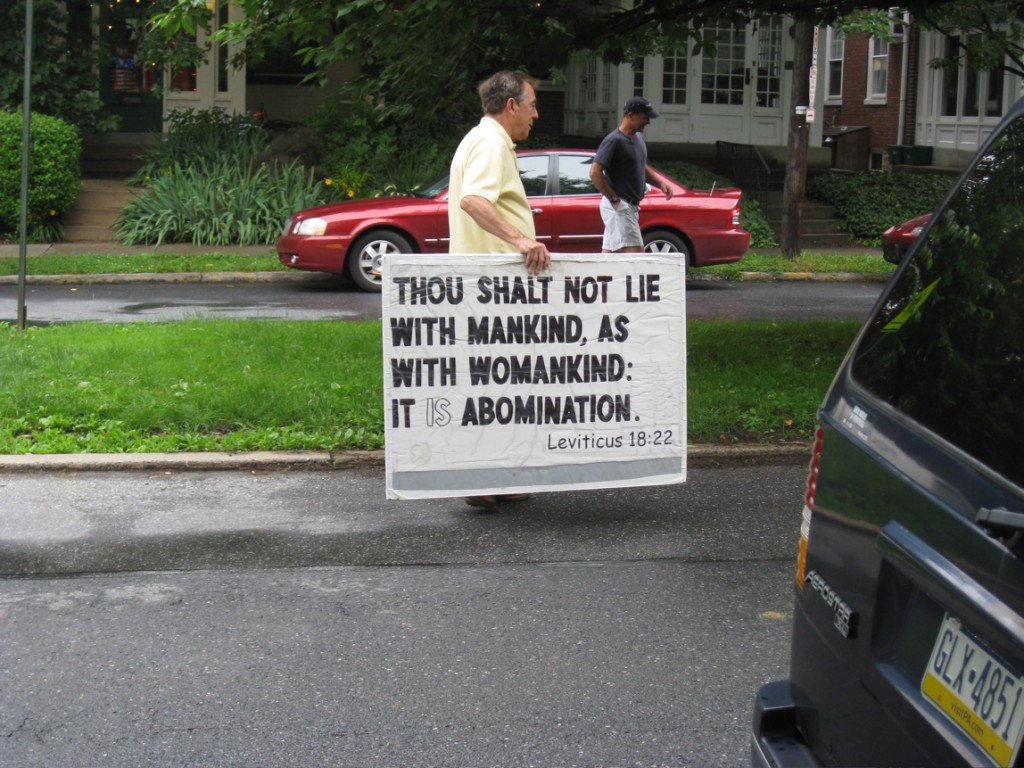 A man walking home midway through the event with his ridiculous sign
Let me conclude with this.  There is a problem with how we as Christians are dealing with the homosexual community.  Let's stop being scared and grossed out by this particular "sin" and recognize that anything not in God's plan should make us disgusted.  But it doesn't.  Let's stop putting more weight on this sin than others.  Let's put our signs down and show God's love to a hurting world, no matter what their sexual orientation.