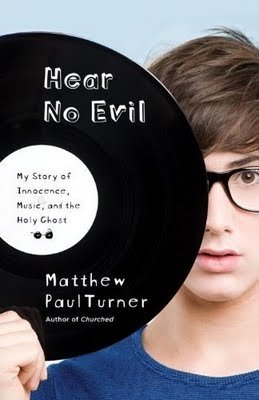 WANT TO WIN THIS BOOK FOR FREE? IF YOU ANSWERED "HECK YES, I'LL TAKE ANYTHING FOR FREE!" SIMPLY READ MY REVIEW BELOW, THEN COMMENT WITH WHATEVER MUSICAL ARTIST/GROUP HAS MADE THE MOST IMPACT ON YOUR SPIRITUAL JOURNEY. IT CAN BE THE BEATLES OR PETRA OR SWITCHFOOT. IT DOESN'T MATTER. SIMPLY COMMENT AND YOU'LL BE ENTERED TO BE SENT THIS BOOK FOR FREE.  CONTEST ENDS MONDAY, FEB 22nd AT MIDNIGHT AND THE WINNER WILL BE PICKED AT RANDOM ON TUESDAY FEB. 23rd. [MUST BE 18 YEAR S OR OLDER TO WIN THIS ONE…]
HOORAY FOR FREE.
Matthew Paul Turner is funny.  That is the first word I associate with this recovering-hyper-fundamentalist Christian author.  Matthew is known for his hilarious remarks on God and the Christian subculture on twitter and facebook, as well as at his blog titled "Jesus Needs New PR". And I think that most of us in ministry agree that Jesus could use some better ways of spreading his message of hope, love, peace, and reconciliation.  For those who can laugh at funny images of Jesus and a little cyncism, Matthew is one of my favorite twitter users and bloggers.
Over the past week, I have read Matthew's new book, Hear No Evil, and it has been a hilarious journey.  I found myself at the dinner table reading chapters aloud to Sarah and sharing the stories with friends.  Like any good writer, Matthew draws you in to make you feel a part of the conversations.   On a more personal level, the stories resonated loudly to me as someone who thought he was supposed to work in the music industry, but was instead called to vocational ministry.  Hear No Evil is a memoir, written from a perspective like Donald Miller's Blue Like Jazz or Chuck Klosterman's musical journey across the U.S. in Killing Myself to Live.  The book tells personal and engaging stories of Matthew desiring to become the Michael Jackson of Christian music.  Michael grew up in a very strict, conservative home and was not allowed to listen to "devil music" like Amy Grant and Michael W. Smith (who are both Christian artists btw).  The stories that Matthew tells not only chronicle this journey, but give profound nuggets of wisdom woven throughout his interactions and narration.  For those that lean more conservative, this may not be the book for you, as Matthew comes at some of his conclusions from a slightly more progressive view.
Even in the more "edgy" scenes (edgy in the Christian meaning of that word) with Matthew making out with a girl who suddenly feels called to date Jesus and descriptions of his male, college accountability group (you can guess where that one is going…), this book is brutally honest.  And that is the word that kept coming back to my mind as I read this memoir: honesty.  Many Christian authors feel the need to stay "within the box" and often miss facing real issues that Christians are dealing with today.  One of the biggest lessons I learned was not about his interesting experiences within a messed up, Christian music industry, but instead that it is more important to be true to who you are and to be honest with your struggles.  God wants us to be honest about what we are going through, and having other people around you as support can be the best thing we can get for our soul (which is one of the best purposes of the local church I would add).  In fact, I posted a very moving video by Matthew last July here at Jonathan Sigmon's Blog where I reflected on the importance of the mystery of God.
If you would like to read Matthew's writings, check out an edited chapter of one of my favorite chapters in the book called Chasing Amy.  You can read it at Patrol Magazine here and hear of the scandal behind Matthew being forced to get Amy Grant to apologize for her divorce by the publisher of CCM. Yikes.
Honesty wins. So does "Hear No Evil".
If you don't win the contest below (win by commenting the group who has made the biggest spiritual impact on you) and receive the free copy from Siggy, you can purchase the book at any of the links below. You won't be disappointed.
Amazon
Kindle
Barnes & Noble
Barnes & Noble E-Book
BooksChristian (Autographed copy here)
Christianbooks
Lifeway
This book was provided for free for review and distribution by the WaterBrook Multnomah Publishing Group.