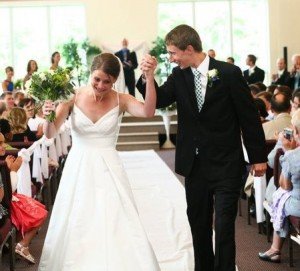 The best words I've ever said:
I, Jonathan, take you, Sarah, as a gift from God,

to be my lifelong companion through tears and laughter,

sickness and health, in times of plenty and in times of want.

I will love you consistently and prayerfully, now and forever.

I promise to be faithful to you and honest with you.

I will respect you and trust you. I will help you and care for you.

I will share my heart, my stories, and my laughter with you

because you are my best friend.

I will forgive you as we have been forgiven by God.

I will work with you to live a peaceful life

as Christ has called us to live.

And, with you, I will work to further compassion, justice,

and peace in our world.

I will love you and be thankful for the blessing of your love

until death parts us.
Happy 1 Year Anniversary Sarah Sigmon. You're the love of my life.