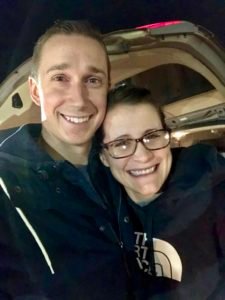 Thursday Morning
My college best friend, Zac Northen, called me on Thursday morning and invited me to go to Israel with him for free. He leads a college gap year program and one of his leaders dropped out, so he invited me to join him. I immediately told him I couldn't do that, as I had a lot to do at work. I was gearing up for Flower City Work Camp and assisting to lead 800 students for their spring break, helping lead a conference, and I wasn't sure how my wife would take care of the kids solo and work full time.
Thursday Night-Monday
I mentioned it in passing to my wife that evening and she said, "What are you thinking?? You should totally go!!" We discussed some details as to how it might work and I called Zac back and we began planning. But there was a problem. Because the international flight was being changed within the last few days, the travel agent helping plan the trip said that Turkish Airlines was having trouble changing who the ticket could be assigned to. Then, Turkish Airlines moved to their skeletal crew for weekend hours and the travel agent could not get a hold of anyone. We would have to wait until Monday to find out if I'd be going on Wednesday to a 10-day trip to Israel.
At this point, it sounded like the trip was at about a 50/50 shot of happening. So we waited until Monday and hoped to the travel agent could get a hold of a representative to move the plane ticket. The morning went by. Lunch came. I kept pestering Zac to see if he had heard anything. Nothing.
All of Monday went by and the travel agent still could not get the ticket transferred. I was so excited about the itinerary: visiting Nazareth, the Sea of Galilee, Jerusalem, the Dead Sea, and more. And by end of the day Monday, the travel agent said, "You may want to tell your friend to bail on the idea." I was extremely disappointed. I was really looking forward to hanging out with my good friend and seeing so many sites.
Tuesday Morning
I woke up Tuesday morning super grumpy. I rushed the kids out the door and went for a short workout before work. Midway through my life, I just quit. I felt defeated. I went to work and tried to go about my day as normal. I didn't want to mope and set a negative atmosphere for my co-workers. But inside I was dull.
I was in the middle of a meeting when I saw Zac calling. I rushed out and picked up the phone. "You can go. It'll now cost a little bit [due to the school being able to get a refund for an unused ticket/trip], but we can transfer everything. The travel agent is on the other line. You have 60 seconds to decide if you are committing."
What???
I told Zac I'd call him right back.
I called Sarah at work. She didn't pick up.
I called again.
Then again.
Still nothing.
I paced my office.
The phone rings. It's Zac calling me back and saying he needs an answer. Sarah had been encouraging me to go. In fact she was strongly urging me to go. She had been praying for time with a friend and an adventure (I found this out after). But now it was decision time. Sarah called me on the other line and I took it. I told her the scenario. She said "Are you serious?? Why are you calling me!?? Go!!!!"
So I said yes.
I scrambled to get a bunch of work done. I had an emergency meeting for Flower City Work Camp to figure out how we could get all the kids to come (hooray they can!). I bought a ticket from Rochester to NYC. I called my Mom, who agreed to come up from PA to stay with my wife for the whole time I'm gone. (Did I mention yet I have the best Mom in the world?). I took my son to soccer practice. Then explained to him I was going on a trip. He didn't seem to care much at four years old, but made me promise when I got back to buy a race car for him, his best friend, and myself. "When I get home, we'll go to Target right away, buddy."
Tuesday Night
As I'm putting Will down to bed, Sarah calls me with her concerned voice. She was doing substitute plans online, as she was going to stay home with our sick daughter, so I figured it was about that. Did I mention she's had a fever hovering between 100 and 103 degrees throughout this whole saga? I finally came down and asked Sarah what it was. "They've cancelled your flight and re-booked you for 5pm, which is 6 hours too late for you to catch your flight to Israel. I'm not seeing any other alternative flights."
I scramble to look on Delta's website. There's nothing. I hit a wrong button and signed up for a wrong flight on a wrong day to transfer my ticket to. Oh my gosh! I was so frustrated. I wanted to scream. Now I simply can't get to NYC for this trip? Was I just not supposed to go?
I said a quick prayer. It wasn't my holiest sounding prayer. It was an angry one.
I searched again on a separate site for flights. There was one more flight from Rochester to NYC remaining! I booked it immediately, while still on the phone cancelling with Delta. I was back in business!
Believe it or not, the story isn't over yet. A huge winter storm was set to hit JFK airport in the morning and all day. It's likely why my first scheduled flight was cancelled last night. They are calling for 10″-15″ of snow. Would I be able to get off the ground in Rochester to make it?
We went to bed last night unsure. We woke up at 3am and checked the flights and weather. We left for the airport at 4am. I said goodbye to my beautiful wife.
Wednesday Morning
And now I sit writing at JFK airport, waiting for the rest of the group to show up.
Life is an adventure. I plan to soak it all in on this trip. I just watched a short history of Israel and will be reading a book about it on my flight. I slept 3 hours last night. But I'll walk the path Jesus took on his way to the cross. I will take a cruise on the Sea of Galilee.  And I'll have communion at the tomb where Jesus raised to life. I'm so excited for the adventure, but even more excited about contextualizing the Scriptures. A friend prayed a powerful prayer for me yesterday – that this trip would spur on new insights for me to the life of Christ and have ripple effects in my preaching for years to come.
I'm excited.
I'm grateful for my wife, mother, and church staff enabling me to take a trip of a lifetime.