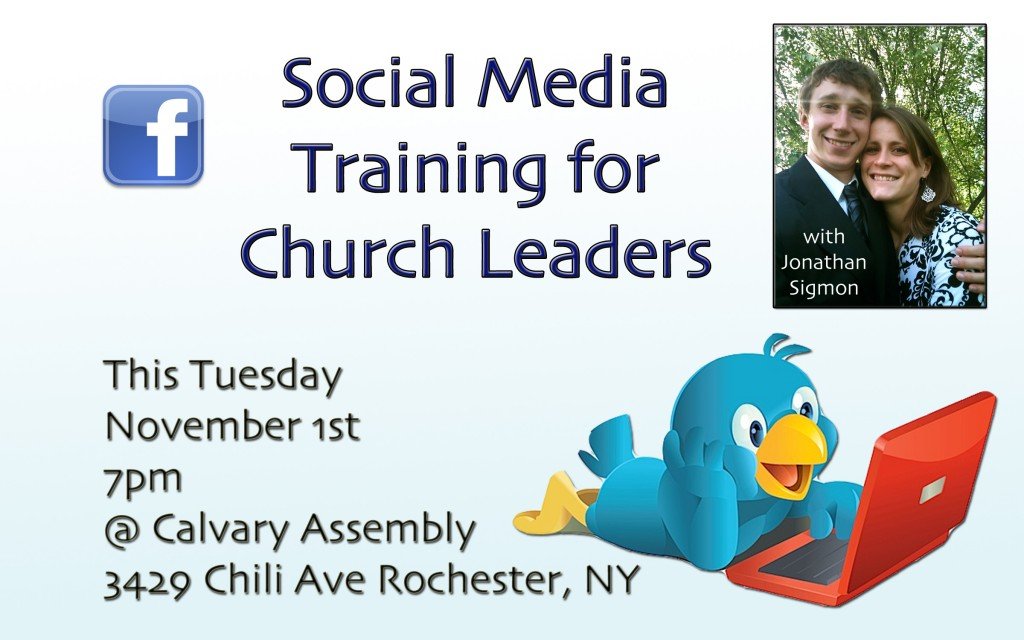 Calvary Assembly is hosting a FREE seminar on how ANY sort of church leader can use social media well – TONIGHT! This is not limited to pastors or "top" church leaders, but is available to ANYONE interested. There will be information that applies to the beginner and to the pro. I will be the teacher for the seminar and am excited about the discussion that will ensue tonight at 7pm.
Here are some of the topics we will cover:
– What is social media exactly?
– Why is social media valuable?
– What do you write? What if you don't know what to say?
– 12 pieces of advice from Jonathan
– Where do you go to get good content?
– How can you use Facebook/Twitter and other platforms for your church organization?
– What is twitter and how do I use it?
The seminar starts at 7pm and will go just over an hour (including time for questions). As I said, we are looking forward to investing in anyone who is interested!
If you would like to join us, please RSVP to Calvary Assembly by 4pm today at 585.889.0190. We will have a binder full of information for you tonight!
I look forward to it!
-Jonathan