If you missed Day 1's notes, click here first! Enjoy!
Joseph Grenny – Mastering the Art of Crucial Conversations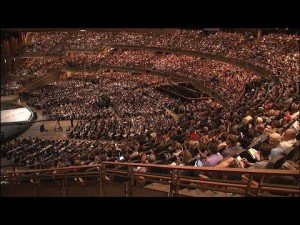 Are there moments of disproportionate influence?
Moments where someone behaves has an enormous effect on every result you care about?
Big Idea #1:
The Principle of Crucial Conversations
Anytime you find yourself stuck, stop and ask:
What crucial conversation are we not holding or not holding well?
[If you don't talk it out, then eventually you will act it out (negatively)]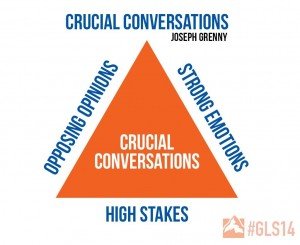 It is your job as a leader to make sure that you are paying attention to the crucial conversations that need to happen (model, coach, and act on these conversations!)  Candor is so critical!
They are either a pit or a path (accelerate to a new level – more intimacy)
Healthiest churches have better member growth, financials health, staff strength
Your individual influence is fundamentally based on your ability to have crucial conversations.
Talk it out or walk it out. Those are our options on crucial conversations.
Crucial conversations effect every area of ministry. The goal is to make the crucial conversations become the path instead of the pit.
The Bible is a history of crucial conversations.
What crucial conversation are we holding or not holding now?
Seven Crucial Skills:
1) Start with Heart
2) Learn to Look
3) Make it Safe
4) Master My Stories
5. STATE MY Path
6) Explore Others' Path
7) Move to Action
2 Tasks in the Hazardous Half-Minute in order to be heard
1) Help them know that you care about their interest and their concerns (almost as much as you do). You create mutual purpose to allow the other person to exhale. This cannot be a gimmick. Must be sincere.
2) Create mutual respect – the other person knows that you care about them.
So how do you do that for someone you don't respect? Let them know you are for them and always do it with respect.
The myth that we can't tell the truth and keep a friend is keeping us from our greatest potential.
Erika Ariel Fox – Winning from Within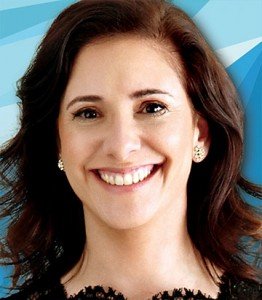 The reason we can't negotiate well with others is because we cannot negotiate well with ourselves.
Have you ever said yes when you wanted to say no?
Have you ever really wanted to take a risk, but the other part of you told you to play it safe?
There's a gap, called the performance gap, which is the distance between you doing your best (full potential) and what you actually do in real practice.
Identify your performance gaps and work to close those gaps to become the best of who you are.
How Do We Find Our Performance Gaps?
One way involves looking at yourself in a new way. Most of us think of ourselves as singular. But another way is to look at yourself in plural form. There are voices from centuries to centuries saying this.
The Dreamer: Creates Possibilities
Ex/ JK Rowling brought her book to 12 different publishers who said no. Then became the greatest selling author of a book series.
– Dreamers look at the dream underneath the dream.
The Thinker: Clarifies Perspectives (your inner CFO)
The Lover: (VP of HR)
– People want you to know that you care about them. As an end unto itself.
When you are feeling vulnerable or reactive, picture a person who you really love for 30 seconds. Then when you go into the meeting, let the other person know you care.
Find places in your life where you are saying yes and say, "Thanks but no." Even if the only reason is burnout.
Choose the tough conversations and think about how you can find a loving way to have them.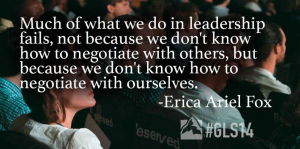 Don Flow – A Grander Vision
How does your faith effect your business?
Faith drives the culture – bringing hope and Christ's redemption to the world in a pluralistic setting.
1) Through Prayer
2) Daily Interactions
3) Culture
4) How this animates how the company engages employees and the community
For a grander vision, live love and bring hope. Begin each day by saying, "Not my will, but Yours be done."
As a leader, your organization will not be more truthful or graceful than you are. It starts with you.
Don Flow's Company Does:
Covenant: A personal commitment and unbreakable promise. This means telling the truth, doing the right thing, and always keeping promise regardless of the cost.
– they intentionally limit their profits on car sales to ensure they don't take advantage of uninformed buyers.
If business should exist, what should it look like?
Cultivate & organize Creation.
Bring justice and mercy to the world.
Serve.
We must live faithfully to this vision, acknowledging that we will always fall short. 12 friends changed the world because they believe it happened.
You evaluate employees on the metrics you measure.
Leadership flows out of who we are, not just what we do.
SERVE:
Show Respect
Earn Trust
Reach for Perfection
Value Input
Energize Others
We will never achieve perfection, which means we must be a people of grace.
Allen Catherine Kagina – Ugandan Revenue Authority
just listened to her incredible story…wow!
Wilfredo De Jesus – In The Gap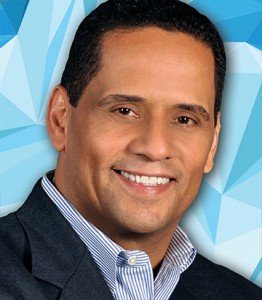 Prayer is a weapon, but we must not rely on it as a crucial.
Your budget cannot dictate your faith!
When we see injustices, we can't just say "Oh that's so bad". We must engage our community.
Ezekiel 22:30
Throw all sorts of lines/bait – the method doesn't matter. The message does.
Fear is the absence of faith.
Nehemiah asked "How is Jerusalem?" and it changed everything. The walls were in ruin.
1) He Prayed
2) He Planned – we don't like the process.
Ex/ in NFL they have 25 seconds to call a play. What if we got out of the huddle and into our communities?
3) He Proceeded
4) He Persuaded – there is always opposition, but God is with us and for us.
Courage is an inner resolution to move forward despite the obstacles.
Ivan Satyavrata: The Power Paradox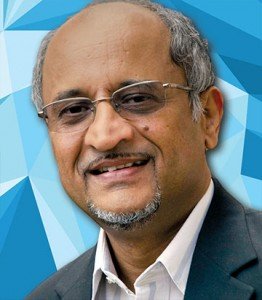 On one hand you have an all-powerful God and on one hand you have overwhelming need all around you. This is the power paradox of leadership.
1 It was just before the Passover Festival. Jesus knew that the hour had come for him to leave this world and go to the Father. Having loved his own who were in the world, he loved them to the end.

2 The evening meal was in progress, and the devil had already prompted Judas, the son of Simon Iscariot, to betray Jesus. 3 Jesus knew that the Father had put all things under his power, and that he had come from God and was returning to God; 4 so he got up from the meal, took off his outer clothing, and wrapped a towel around his waist. 5 After that, he poured water into a basin and began to wash his disciples' feet,drying them with the towel that was wrapped around him.
Jesus knows that all things are under his power and his self-awareness assumes him in the role of the powerless.
A leader must be able to wield power, in order to lead effectively. At the same time, be genuinely vulnerable. Absolute power and absolute vulnerability.
Knowledge is power. Jesus had the most knowledge of any human. The wisest thing we can do is share his message of hope and truth.
Knowledge of power sometimes corrupts and can fill us with intoxicating pride. How are we stewarding our knowledge bank for others?
Boldly invade the darkness.
Be patient and resolute in the face of evil.
Great leaders hold the scepter of power in one hand and a towel and basin of service in the other.
The greatest gift you can give to followers is to give them the ultimate safe place so they can soar to greater heights.
Great leaders refuse to use influence or intimacy for intimidation or control.
Combine humility with fierce resolve.
We are not called to be a Christian terminator who wipes out all evil. It can feel overwhelming. But then comes a moment of truth. An exploding realization: Therefore, I will boast all the more gladly about my weakness. I delight in my weaknesses…for when I am weak, there he is strong." This is the joy in the power paradox.
When you feel the weakest, that is precisely when you are strongest. Your strength is made perfect in Him.
Is the world becoming a better place because of your power?
Power paradox leaders are accustomed to heartache, but have deep joy. Having nothing, yet possessing everything. Dependent conquers. Meek inheritors of the earth.
Tyler Perry: When Leadership Meets Inspiration
What is your writing process? The artistic time needs to be separate for room to create – just in office for a few days a week. If the artist says I can't stick to a schedule or a budget, can they work with you? "Nice to meet you, I wish you well on your struggle." Clear the noise. Clear the clutter. How do you inspire people? Surround yourself with people who are like you in the sense of being an underdog who worked hard. Look for the best attitude, even if they are less qualified when hiring.