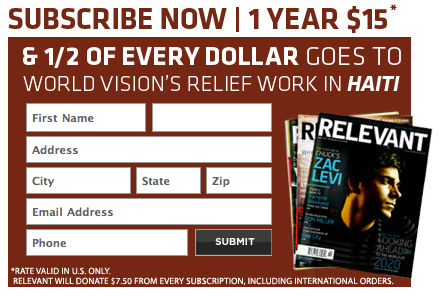 My favorite magazine, RELEVANT, is currently giving away half of every dollar for every new subscription to World Vision's emergency relief efforts in Haiti.  When you subscribe to RELEVANT, "you'll stay connected to what God is doing in our generation. By subscribing right now, you'll tangibly help those in need."
The yearly subscription is $15 and is worth it on its own, but now that half of that goes to Haiti, it is an offer you can't pass up on.  It's also a great gift idea for anyone who is interested in some incredible writing on current issues, exploring how we as Christians can play a role in shaping God's story.
Relevant Magazine: God, Life, Progressive Culture.
Also, if you would like to buy an album, iTunes released "Hope For Haiti" for $7.99, of which 100% of the proceeds go towards Haiti relief.  Jay-Z, DMB, Stevie Wonder, and Beyonce have nice performances on the CD, despite it being a more b-ranking album in my opinion.  Either way, even if it's not the best of songs, it still goes towards rebuilding.
Haiti you are still in our prayers.
"We're not gonna leave you stranded"