As most of my followers know, I recently went on a cruise through the Western Caribbean.  It was the most incredible trip of my life! My grandma decided to take 21 of us in my extended family and I cannot even come close to finding the words to thank her.  Also, my parents payed for a good bit of the expenses and so they deserve a huge thank you as well.  We went to Haiti, Grand Cayman Island, Jamaica, and Mexico.  I had not been to any of these places other than Mexico a couple of times on mission trips where we built houses for the homeless.  A much different trip and needed getaway.
What you are probably most interested in is the karaoke that took place.  It was hilarious!  I've been getting notes from all kinds of people on facebook about it.  Before the trip, I did not know my cousins all that well as I only saw them once a year for a couple days at Christmas.  We always got along great, but just didn't know each other since we had not spent time together.  However, after living in a tiny, messy space together for the week, we found out that we all love weird, indie music, goofing off, and similar takes on God.  We never planned on doing karaoke, but some of my aunts and uncles encouraged us to do it, so we tried it out.  Everyone before us simply stood there without moving and just stared at the screen.  We thought that was pretty boring so we wanted to step it up a little bit.  I'll let the videos speak for themselves…
N*SYNC "BYE BYE BYE" (My personal favorite that we were asked to re-perform below)

CHRISTINA AGUILERA "ALL I WANT IS YOU"
We performed a total of 6 songs, which I think is a bit much to post, but hopefully you got a great laugh out of that!  I know my family definitely did and it was fun to liven up the party a lot more.
Below here is the "Flowrider".  This shot 600 gallons of water per minute at you while you either surfed or body boarded.  This is on the boat! In the middle of the ocean! In the pictures below, you can begin to see that the boat looks more like a floating Hilton Hotel than a boat.
Now for some pictures of the trip…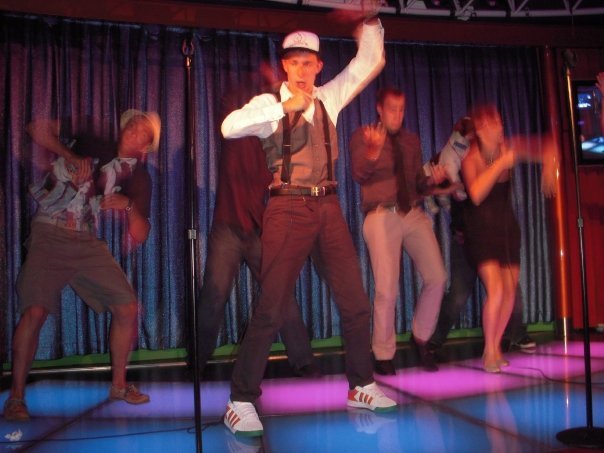 Picture with my hilarious cousins and Ian's awesome girlfriend, Nicole.

















Parents and I at Dinner

















Jumping onto the Flowrider

















I'm On A Boat!

















Everyone Jumping On Stage for Karaoke
Two of my little cousin's, Justin and Josh. They are awesome and fun!

















The Boys and Mehmet – the Best Waiter (and most fun) Ever!
Rock Climbing on the Boat (Yeah…Ridiculous…)
Family doing YMCA