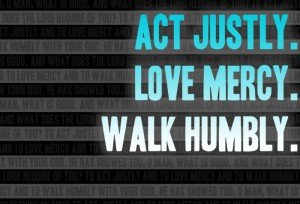 He has shown you what is good.
And what does the Lord require of you?
To act justly and to love mercy
and to walk humbly with your God.                                                  [Micah 6:8]
I'm thankful God shows us the answer for what he wants from his children. Nothing would be more frustrating than not knowing what your Father desired – and so today I am simply thankful He has shown us.
God's 3 requirements?
1. Act Justly
2. Love Mercy
3. Walk humbly with God
That's it.
It doesn't sound that hard, but man oh man is it!
How does this reminder hit you today?
Photo Credit: Peter Geckeler