Here is a list of Worship Leader Magazine's Top 12 Songs: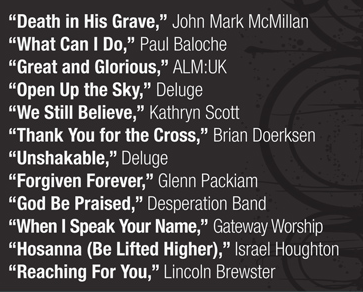 Our church has been really digging, "God Be Praised" for the past few months, but not the same song that is on this list. "God Be Praised" by Desperation Band (found here) is good, but we really like the less popular "God Be Praised" by Gateway Worship. You should check that out.
Also, if you'd like all these tracks (mp3's), Worship Leader Magazine is doing a promo that you get it all for free, including the charts, if you subscribe this month.
Slick deal. Click here to do so.
[Note: This is not an affiliate link or am I receiving any benefit from WLM. Just pointing you there for information on a good deal.]